One of the first and easiest tasks you can do is choosing a background to build your project on. 
What to choose…
OpenCities Planner comes pre-installed with several Template options.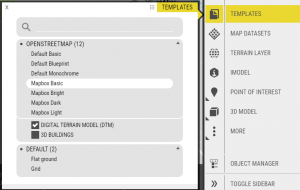 Grid – This is the default grid you see for new projects.
Flat Ground – A plain flat surface
OpenStreetMap – You'll find several different 'OSM' options, with different styles as well as optional terrain and buildings.
Custom – You can create your own Templates too. Those will be listed here as well.
Task: Add a background to your project. Choose your own, or one of the free OSM options.
PROTIP
Not every region in OSM includes 3D Buildings yet. They're being released on a continual basis. Drop us a line if you want to know more about a specific location.