To add or change users on the Instance, go to Instance settings and switch to the Users subpage.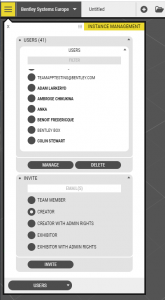 Enter the email of the user you want to add, select the user type and click Invite.
Types of Instance users
Team Member has viewing rights of the projects to which the user has been invited to. In addition to that, a Team user can also export screenshots of the project, export 360° images, create and export videos, create and download sun studies and do elevation renderings.
Creator (no Admin rights) has full editing capabilities but only of the projects that the user created or to which the user has been invited to. A Creator does not have access to DataManager.
Creator with Admin rights has full editing capabilities to all the projects in the Instance and has access to DataManager. A creator with Admin rights can also invite other users to an Instance or a Project.
Exhibitor has the same rights as a Creator and in addition also can download and use the ShowRoom desktop application.
Exhibitor with Admin rights has same rights as a Creator, the ShowRoom application and also access to DataManager.