Shape files are georeferenced vector data (point, line, polygon) that can be exported from most GIS applications. The vector data can have linked attributes that carry information about the vector objects in the shape file. OpenCities Planner can render shape files textured on the terrain or if the vector type is polygons extruded to 3D-volumes.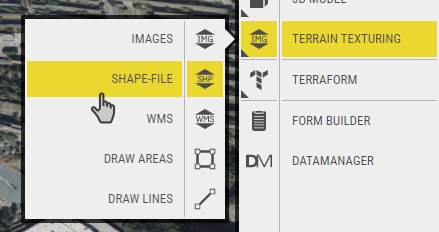 Upload
Click the plus icon or drag and drop shape files (.shp+.shx+.dbf) from the hard drive on the upload window or anywhere in the project view to upload. After upload, the properties window for the shape file is shown where you set how the vector data is rendered.
Styling
You can style the entire dataset by manually selecting a color, opacity and if polygons choose to extrude them to a specific height.
Or, you can map the properties from the linked attribute database to have individual settings per vector object in the shape file. To do so, select which attribute column to use for each property. You can also mix manual setting with mapped settings from attribute.
Feature info
You can set an action that happens when the user clicks on a vector element. Either show attributes from the shape file, or use an attribute to display a URL in a popup window.