Here's a good example how to visualise a time line for planned buildings in a city wide model.
The city of Gothenburg uses OpenCities Planner to present all major city development plans in a photorealistic city mesh model.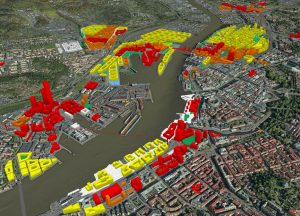 Most of the 3D-models were created in CityEngine, exported as Collada, and imported into OpenCities Planner. Colours are used to present building phases throughout the city. Red indicates projects to be built before 2021, Orange before 2028, and Yellow before 2035.
Not only is this a simple solution but it is also effective.
A user can quickly get an understanding of how and when the city will develop. The same principle can be applied with content using different icons to represent time, or by using layers to group content into particular time periods.